Nothing's more frustrating than running out of storage. Here's how to keep it from happening.
Running out of storage is one of the pains that often goes hand-in-hand with owning a smartphone. Fortunately, a careful approach to storage management can help you clear up space on your Straight Talk device without losing the content you care about. We'll show you how it's done.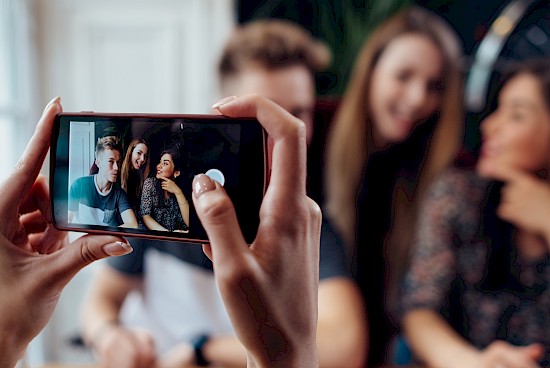 Native storage features
When it comes to storage management, the best place to start is your smartphone's settings.
When it comes to storage management, the best place to start is your smartphone's settings. Find your phone storage menu, and you'll be able to check exactly how much storage space is currently being used. You'll also be able to explore how that space is being used, which should make it simple to find areas of improvement – whether that involves backing up your photos or simply deleting a few apps. Most modern smartphones even feature integrated cleanup tools designed to help you get rid of unnecessary data with just the touch of a button.
Use the cloud
Cloud storage is arguably one of the most convenient innovations to hit the smartphone market. Put simply, cloud storage services let you store your data – from music to documents and beyond – on remote servers hosted by the company providing the service. That means you get easy access to the files you need without having to store them on your phone. Apple devices come standard with iCloud functionality, while both Android and Apple users can opt for a host of other cloud service apps available through both Google Play and the App Store. Popular options include Google Drive, DropBox, and OneDrive.
Get a memory card
Cloud storage is essential, but if you prefer physical storage space, consider buying a memory card for phone storage expansion. Most modern Android devices accept cards that provide far more storage than the device alone, offering plenty of space to store what you need without sending it to the cloud. Just bear in mind that certain devices, including Apple phones and some Android devices, cannot be expanded.
Phone memory cleaners
Once you've backed up your files and stored your important content on a memory card, wrap up your storage routine with a phone memory cleaner. These convenient apps help you keep on top of your storage management by easily identifying throwaway data that your phone simply doesn't need. Clean Master and Power Clean are two widely used choices that should get the job done.
Save big
With the best phones, best networks, and best deals, Straight Talk is the tech enthusiast's dream come true. Our unlimited plans offer the data you need to browse, stream, and more at a price that's easy to work into your budget. Plus, we offer the latest and greatest phones on the market, so you can always stay one step ahead of the game. More speed. More data. Less money. It's easier than you think with Straight Talk.